Weekly Mowing, Aeration, Dethatching, Overseeding, Edging, Mulching, and Fertilizer
Elite Landscape Group is a local lawn care and landscaping company working in the Naperville area. Some of the services we offer are : weekly mowing, core aeration, dethatching, overseeding, trimming (Shrub and trees), fall and spring clean ups, mulch installation, compost and mushroom compost installation.
Our mowing service includes cutting the lawn, edging of sidewalks with a string trimmer, trimming all areas inaccessible to mowing equipment and blowing.
We Are Your Local Landscaper In Naperville
Mulch installation in Naperville
Mulching service is available in the surrounding towns of Naperville. We deliver and install premium hardwood, brown, red, cypres, chocolate, playground, black, and gold colored mulch. We also sell compost, mushroom compost, topsoil and garden mix soil.
Lawn Renovation
We offer lawn renovation services in the Spring and Fall. Rejuvenate your lawn with our lawn renovation services.
Core Aeration
Dethatching
Overseeding
Fertilizer (seed starter)
Naperville Summer Services
We offer lawn care services in the Summer:
Shrub and tree trimming
Landscaping
Mulch Installation
Flower bed design
Grass cutting
Snow Removal  Services
We offer snow removal for residential & commercial in the winter:
Local Snow & Ice Removal for Naperville
Voted Top Snow Removal Contractor
Providing Affordable Residential Snow Plowing
Contact the Top Rated Snow Removal Company
Driveway Snow Plowing
Sidewalk Ice Removal & Snow Blowing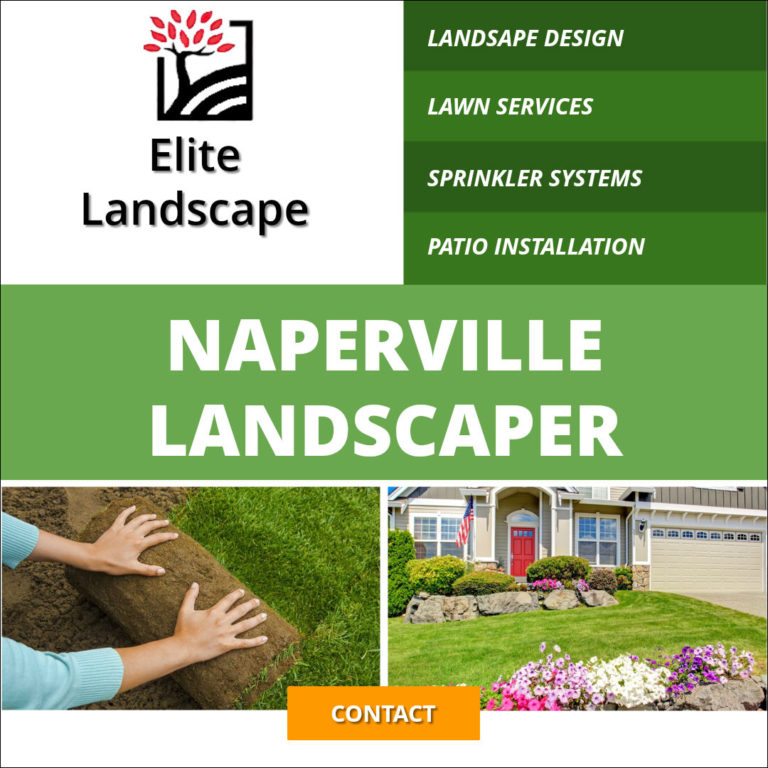 Reputation
75% of our annual revenue is earned through repeat business and referrals from previous customers. We understand the importance of your complete satisfaction in quality work while receiving the most outstanding customer service experience ever!

Experience
Elite Landscape group has been in business for more than twenty years and is experienced in developing and maintaining beautiful lawns, landscapes and gardens to give your property the value it deserves.

Education
Elite Landscape Group in Naperville, Illinois is a member of the Illinois Landscape Contractors Association (ILCA). Through the ILCA, members obtain training and continuing education in both technical and business skills to enhance their business practices. Our employees and technicians also have access to trade shows, trade publications, networking, and much more to stay up-to-date on the latest trends.

Guarantee
At Elite Landscape Group we aim at 100% customer satisfaction. If you are not completely satisfied, we will return and make it right.
Our Specialties
We specialize in both residential landscape design and commercial landscape design, construction and landscape maintenance. Our goal is to help attract attention to your business, help you build an excellent impression of your company, and create with you a landscape design that best fits your company profile and needs — a design that is sustainable, manageable, artistic, aesthetically pleasing, and well adapted to your property.
 Landscaping design and construction
 Property lawn and landscape maintenance
 Sprinkler system installation
 Snow removal and Ice management
 Landscape lightning
Professional Landscaping Design Tips to Consider for Landscape Design & Planning in Naperville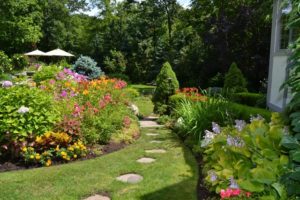 No matter if you are considering just a few changes to your residential landscape or you want to completely redesign your landscaping you should consider these important factors before you begin your planting.
Many landscaping ideas begin when residents venture to their local landscaping company or landscape nursery to browse what is on hand at in the landscape design section. Take it from a local landscaping Pro, that creating a plan prior to your venture to the store will help you choose the right plants and shrubs that will the best fit for your landscaping needs. A plan in hand will save you both time and money.
Many mistakes are made by picking beautifully landscaped plants with sporadic perineal shopping, only to find that when you bring them home to find that you unplanned landscape design isn't what you envisioned for your backyard design. Follow these landscaper tips that you can make an informed choice about the plants, trees, and shrubs that will best fit your home landscaped needs. If you want to see some great planting ideas you may want to plan a trip to The Morton Arboretum located just north of Naperville.
Identify Your Yard
Some of the questions that you may consider are what is your regional climate? What is the landscaping topography that you will be working with?   What is your soil type? A good place to start is with the USDA Plant Hardiness Zone map.
Horticulture materials are classified by their hardiness zones which is the plant's ability to survive cold.  Naperville Landscaping is considered within a hardiness zone of 5. Plant classified in zone 5 should be able to withstand temperatures that drop from -10F to -20F.
Take notice of the amount of sun and shade each area of your landscaped area receives. A yard can have individual microclimates that require specific conditions for plants.
There are four different categories of these landscaping microclimates: Deep shade, shade, partial shade and full sun. You may have noticed that when picking our lawn grass seed that the types of grasses sold are labeled with the hardiness zones on the package.
Which way does your landscape drain?  Take note of this important consideration.  How does it drain? Where does your yard drain? Do you have a landscaping drainage problem?   The best landscaping designs will facilitate water drainage away from residential homes and commercial structures toward other areas of appropriate drainage.     
What Is the Use of Your Landscaping?
How will you use your yard and whom will be using it.  Is it a commercial landscape or residential? Will the lawn withstand high traffic due to children or stray residents? Will the lawn and landscape have heavy use for outdoor entertaining?  Do you have pets that will use the lawn?
the yard?  There can be may landscape options and each can be combined with each other.  Different spaces or zones can be created for different uses as you can be strategic in your landscaping plans and hardscapes. Pavers and walkways can be designed to facilitate traffic from one landscaping zone to another.  
Will you be maintaining your landscaping or will you hire a professional landscaping company?  Consider your budget and landscape maintenance. Being conservative is usually more realistic. Do you have a lot of time allotted to put into the landscape maintenance?  If not then you need to consider the budget required to pay a professional Naperville landscaper. Know the answers to questions and you will have success in all your landscaping endeavors.   
What is Your Landscape Style or Theme?
After you pick a landscape theme you will have more direction to what materials, plants, and shrubs to purchase.  Themes can be as simple as a homogeneous shape, color or form throughout the yard. Themes can also be complex like an Oriental garden.    
A good theme will accent the architecture of the building or home.   Strive to compliment the style and lines of the building structure or homes architecture within the yard.   Think of it as the outdoor room of your home.
A chosen theme will provide a guide to how you will select plants, structures, hardscapes and decorations to purchase. Think of the colors you will accent with.  Do you want soft natural lined or hard lines? Answers to these questions will help you identify your landscaping theme.
Create Outdoor Spaces
Think of your outdoor space as just another living space that you can separate with other rooms. Just like you would plan a home remodeling project, you should take the time to well plan your landscaping project. Turn your lawn into a well defined outdoor entertainment room.
Remember that you should consider how all of these newly designed landscaping spaces are going to connect.   Think about how your family or guests will move you well-maintained lawn to your professionally looking and well planned landscaped design flower garden.    
How Are the Plants Going to Help You?
In the design phase of your landscape project, you need to consider the function of each plant you are installing. Plants are very diversified and can have very different functions. Some will draw the eye to a focal point in the garden, some plants will provide fruits and vegetables. The other will simply provide beauty colorful aesthetics.  Some have an apothecary and natural healing properties.
You can use plants as natural privacy screens and natural barriers.  A hedgerow and tall grasses are helpful to give a secluded area such as a patio, the comfort, and feel of privacy.   If you have a view that you want to look at like the lake then you would want to choose a variety of plants that grow close to the ground.  The landscaping possibilities are endless.
Plan Your Planting
Consider the visual aesthetics and how the landscape plants will stage from a visual plane.  Will the plants be overhead like a vine in an arch or well-planted tree? When planting the plants think of the is needed for each individual plant to grow.   You don't necessarily want the plants growing on top of each other. So how far apart will each plant need to be? As a rule of thumb, larger plants will be placed behind the smaller low growing plants.
The grouping of plants is landscape consideration. Clustering similar plants together will give the look and feel of a larger plant and a filled color grouping.  Planting groups of plants will also provide more definition the landscape design.
Highlighting Landscaping with Design
Different plants will provide individual athletics highlights to adjacent structures.  Using different textures, colors, plant height, plant size, and different contrast help define and bring together the landscaped garden or backyard that your designing.  
Landscaping  Detail
Hardscapes and landscaping gardens will all have their own individual details. Using various colors, shapes, forms, textures, and aromas will bring the life and beauty into your well-landscaped design.
Consider the changing weather patterns and how and when each plant blooms.  You can have different scents, colors, fruits, and vegetables throughout the year.  Try to work with and consider each aspect of your plantings to get the most of your landscaping.
How Will Your Landscaping Stand to the Test Of Time?
When selecting plants, trees, shrubs and landscaping materials you will need to consider the lifetime value of each of these landscaping elements.  What is the growth rate and life expectancy of each plant. What is the expected landscaping maintenance? Will you have enough room in the planting space for a particular mature plant?  
Environmental Friendly Landscaping
Most everyone is familiar with how you can change your landscape to positively affect the environment.  If you don't well that's ok … everyone can have fun learning landscaping techniques. You can preserve your environment and enhance the natural animal species.  Selecting different plants can give you the option of water management along with the new environmentally friendly hardscape materials.
When planning your landscape and choosing plants considered if the plants that you do want to remove can be transplanted to another area of your yard. Do you even need to remove these plants or trees? Choose new plants that require less fertilizer and water for best conservation practice.
Design a water catch basin to use in your landscaping.  There are plenty of really cool water basins that you can pick up at your local gardening center.  The designs range from an economy used pickle barrel to a newly fabricated plastic resin water barrel that catch runoff from your homes roof.  Recycling rainwater is an efficient and cost-effective landscaping practice.
During the construction of your landscaping design try to use environmentally friendly paints and stains that are non-toxic as to protect the natural environment.  Also, consider recycled landscaping building materials and new and improved landscape ideas for conservation. Reuse and recycle your current landscaping to reduce waste and unnecessary costs.  A well-planned landscape design will save you time and money from now to year to come.
Basic Grass Care for a Great Looking Lawn
We all desire a healthy lawn.  You can be proud of a perfect lawn with a plush green carpet, perfect grass height, and perfectly maintained for the afternoon of playing with the family outside.  You may ask what does it take to get a great lawn like that. To have the perfect lawn there are a few basics that you need to master as a lawn care professional. The secret to perfect grass has lawn care basics, water, fertilizer, and sun.  Master these basic lawn maintenance elements and you will be the envy of the lawns in the neighborhood.
Lawn Soil – Testing Your Lawn in Naperville
The preparation and planning for a new and perfect lawn is a key to lawn perfection. It doesn't matter what type of lawn planting methods you prefer, preparations are necessary. The area will need to be weed free. The weed removal is necessary to prevent further weed control maintenance. Keep the soil from compacting and turning into uneven ruts.
Test the pH of you lawns soil with a home test kit from your local Naperville lawn care home improvement center. DIY test kits are easy to use. Another suggestion is by the states local university soil testing programs that for the most part are free. You may not think this step is important by testing your soil is an important part of lawn care and will save you money in the long run.
When clearing your new lawn area, eradicate the lawn weeds down to the roots. It's important to remove all the competing weeds in the lawn. If necessary you may need to remove the top six inches. The next step is to rototill the top six inches or your lawn soil to improve drainage and loosen the soil. Lawn care pros suggest mixing sand and loam, in equal parts, to the existing topsoil. Configure the drainage of the lawn landscape away from structures and evenly. Then compact the soil using a roller and grade the unfinished lawn with a rake. Be sure to grade it carefully because at this point, how you prepare that lawn landscape, there is no redoing the lawns grade.
Planting Lawns with Seed or Sod Installation
Spreading an instant carpet of grass with sod installation yield tremendous gratification for a beautiful lawn. Planting sod is more expensive and becomes more so the large the square footage of the sodded lawn area. A great alternative is seeding the area by hand or hydroseeding for very large areas. Hydroseeding is typically used by farmers to cover very large grass areas. Hydroseeding disperses an equal mix of seed and binding agents to stabilize the landscaped soil and promote lawn seed growth.
What is the Perfect Grass Mowing Height?
One of the best lawn care secrets to share is how to cut grass. Most homeowners cut their grass to short. A secret to healthy grass cut is less is more. Cutting your grass too short can be damaging to your lawn. To achieve properly cut grass, it's recommended to raise the lawn mower blade to the highest setting so that when your cutting the lawn, only the top third of the grass will be cut. What most don't know is a taller grass will promote the grassroots. A taller grass will provide more shade to the ground, keeping moisture from evaporating and block the potential weed growth by blocking the germination of weed seeds. You will not need to mow a grass that is taller. The Naperville City ordinance requires you that your grass is below six inches.
Watering Your Lawn
You should determine what kind of lawn soil you have. A sandy soil will need to be water more frequently, whereas a soil rich in clay will hold that water and require less watering. The lawn cane watering and moisture secrete is to water your lawn once a week but well and so the water goes deep. Shallow watering tends to cause brown thach with is dead grass on the lawn. A good grass watering will provide moisture to the extended deeper root zones and help prevent bugs and pest from taking hold, such as the chinch bug, which prays on stressed lawns.
A newly planted lawn will need watering every day for ten days. Until the seeds have sprouted only water the seeds for ten minutes. When watering you will only want to keep the grass seed damp. Excess water will wash the seed away. Once the seeds have germinated and sprouts are noticeable, water once a day for up to twenty minutes.
If you are in need a professional landscaping company from Naperville then give us a Call Today at (630) 729-2003